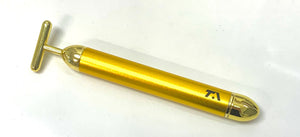 This custom gold beauty bar vibration tool provides vibration which is used to reduce pain. This is achieved via an effect called vibratory analgesia. It is often used by injectors in order to distract from injection pain.
For custom logos or text, please send in your logo or requested customized text to info@injectorsguide.com.
Black etching on golden vibration tool.